Product Highlights
Buy it
"I've been using this 2-3 times a week for about three weeks now and I've seen such an improvement in clarity and texture of my skin. I have a really hard time finding things that work for my skin and this stuff is honestly incredible. The pot seemed small to me at first but a little goes a long way I'm shocked at how long it lasts. 100% worth the money."
Alexia
HOW TO USE
Use 1-3 times a week by smoothing a small amount of the mask over clean, dry skin. Allow to dry. Rinse well with warm water or washcloth.

Apply a small amount of mask directly over the affected spot. Allow the mask to dry. Remove with warm water. Repeat spot treatment with the mask once a day until the blemish is gone.

For external use only. If irritation occurs, stop using and consult a physician. Avoid contact with eyes. Use only as directed.
Reviews
Customer Reviews
Emily G.

United States
07/28/2022
3 days and I'm already in awe
I used to use a sulfur / zinc mask growing up made by a woman who helped clear my moms skin, but when she passed I couldn't buy the mask anymore. When I saw this I knew I had to buy it and try it out! My intuition told me it would really help my active / hormonal blemishes and it's already been transformative. I'm very grateful. Thank you! Hope to try your other products when I can afford to ;) xx -Emily G. NYC
Barbra r.

United States
07/25/2022
not as special as I thought it'd be
it's not as special as i thought it'd be so it feels overpriced considering it's size.
Janell R.

United States
06/05/2022
Hyperpigmentation
My hyperpigmentation has gotten significantly better since using this product! I highly highly recommend!
bianca t.

United States
06/04/2022
Calming zinc sulphuric mask—- Can't live without it !
i was introduced to this by one of my close friends. I thought of sulfuric products to be drying— eg drying out pimples etc. This has been a completely different experience. An epiphany! smoother, brighter skin, disappearance of redness and literally my pores on my nose have always been my #1 problem. Nothing has made reliable and instant changes to the texture and size of my nose/t-zone.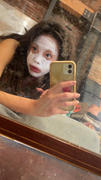 Sarah B.

United States
05/09/2022
Instantly Cleared My Skin!
Never had a product work so well, so fast! I have extremely sensitive skin but this sulphur mask left my face clearer and smoother after just one round. It also works great for spot treatment. My only complaint is that the mask leaves a very heavy white cast that called for a scrubby brush and soap to completely remove, but the end result is so worth it!