Product Highlights
In esthetic practices, High Frequency is used after extractions to help with hostile flora on the skin surface and for mask or cream penetration. At-home you can do the same, see the how-to-use section and follow the instructions.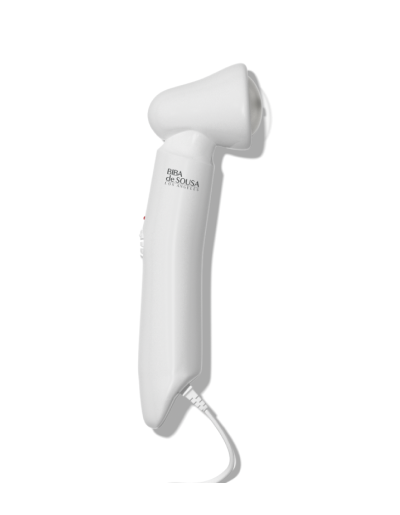 HOW TO USE
Plug wand into power outage and turn power control dial to lower intensity setting. The device will need about 4 minutes to warm up. You will hear a faint buzzing sound once it is on.
In the meanwhile, cleanse or exfoliate your skin and pat dry prior to using the wand. Remember you are dealing with electricity so keep the device away from water.
If you are addressing blemishes, simply cover your face with gauze and gently glide the device over the face for 1-15 minutes in a circular motion.
For product penetration, apply appropriate skincare product on the facial skin and directly glide the device until the product is absorbed.
When the bulb touches the surface of the skin, the high frequency current will produce a very safe and subtle buzz and neon-violet glow as well as purifying oxygen molecules that smell like fresh clean air.
We recommend the high frequency treatment no more than 15 minutes per day. Excessive treatment may cause redness.
Turn off device and unplug when not in use. Be sure to clean with an alcohol wipe after each treatment.
Do not use if you have the following conditions: Pregnancy Neurological Disorders such as epilepsy Infections and Fever Pacemaker or other medical devices Rosacea, Spider Veins, Broken Capillaries or open skin Autoimmune Disease If the ozone bulb is damaged or cracked Do not use internally Do not use near the center of the throat (thyroid gland) Do not use on eyes The ozone bulb should not touch water Do not use on children

USA Voltage. Power input: AC110V/50HZ/60HZ; Max Power 1W+/-10% Dimensions: 7.5 inches length, 2.4 inches wide, 2 inches height Weight: 7.8 oz.